Greek Bonds: Europe's Hidden Gem?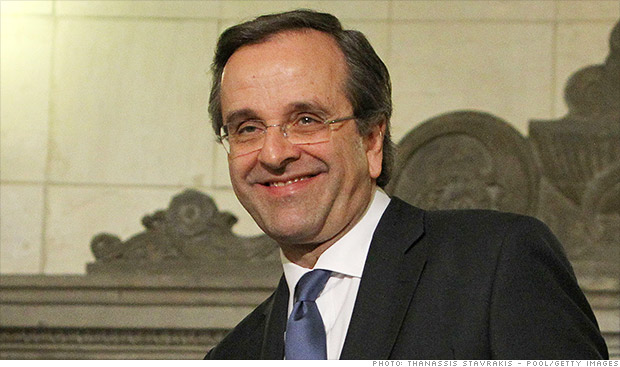 In Italy, the strength of the services PMI surpassed all expectations from economists polled by Reuters, suggesting the euro zone's third-biggest economy was on course to pull out of its longest recession in six decades. British businesses ranging from huge financial corporations to hairdressers again reported solid growth, rounding off the strongest quarter in more than 16 years. Overall, the surveys painted a slightly brighter picture than the "weak, fragile and uneven" recovery alluded to on Wednesday by European Central Bank president Mario Draghi. On balance, they also boded well for the global economy. Indexes from China showed growth picking up there, even if data due later from the U.S. are expected to show a slight easing in the expansion for non-manufacturing companies, which have consistently outpaced their European peers. The main disappointment in Europe was Spain, where a rise in business activity during August – the first in more than two years – proved short-lived as firms slipped back into decline. Still, the data pointed to a broadening recovery across the euro zone, said Nick Matthews, senior European economist at Nomura, though that had yet to be borne out in official data. "The hard data so far for the third quarter has perhaps a bit more on the disappointing side – in particular industrial production …was very weak in July," said Matthews. "We expect this to bounce back, but this suggests we could see a slightly slower pace of growth in the third quarter relative to the second quarter." PMI compiler Markit said its surveys suggested the euro zone economy grew around 0.2 percent from July through September, a touch below the 0.3 percent registered in the second quarter. Nomura's Matthews said they suggested a slightly stronger rate of growth for the final months of the year. STILL NOT ON SOLID GROUND Markit's Eurozone Services PMI rose to 52.2 in September from August's 50.7, little changed from a preliminary reading of 52.1. Readings above 50 signify growth. Businesses in No.1 economy Germany reported rising new orders and staffing levels, while France's private sector grew for the first time in a year and a half.
"We're not going to do it in six months. If you're talking about the recovery of value in Europe, it's a five-year idea. It took five years to kill that view and it's going to take years for it to come back." In 2011, the only other time in the past decade when the price/earnings gap between growth and value was as wide as it is now, the broad market retreat started around three months after that gap began to close. That could be an indicator of when the broader market rally may run out of steam this time although not necessarily. In 2000 the gap between growth and value stocks was narrow yet the overall market downturn did not begin until around five months after the gap began to close. In the past five years the MSCI Europe Value Index has underperformed growth by nearly a quarter, in the run-up to the 2000 market peak, the gap between the two was less than 5 percentage points. SMALLER POOL In the current market rally – European stocks rose in 14 of the last 16 months and the STOXX Europe 600 index is up by around a third in that time, trading near five-year highs – the pool of obviously cheap, "deep value" stocks for investors to choose from has already contracted. The number of STOXX Europe 600 companies trading below their 10-year average price/earnings ratio has halved to around 270 over the past two years. On the flip side, investors' aversion to companies exposed to the economic cycle during recent years has left many well-established companies with healthy balance sheets trading at lower valuations than the overall market. In these cases, the distinction between value and quality stocks has been blurred. "The opportunity is not so much in deep value but in relative valuation within the European equity space, where you have a lot of cheap cyclicals that you can invest in and benefit from the cyclical upturn," said Manu Vandenbulck, senior investment manager at ING Investment Management. On a sector basis, energy and financials – the biggest weights within the MSCI Europe Value index – look the cheapest, followed by utilities and consumer discretionary shares. Investors, though, are using additional criteria to filter stocks that are cheap for good reason from those that may be unjustly discounted. ING Investment Management looks at sustainability of dividend payments, for example, while JPMorgan prefers firms well placed to ride Europe's economic recovery. "That is banks, obviously, autos, part of construction, part of consumer cyclicals.
RPT-Europe's cheap stocks set for a long catch-up rally
last year when it issued its first profit warning in 20 years. Its a pretty simple set of challenges: Massive stores stocked full of discretionary electrical goods, when consumers in the midst of a recession want smaller, local, cheaper shopping that they can find at discount stores. Tescos international business was supposed to insulate it from slowing growth in grocery in the developed markets, and it managed just such a balancing act for several years. But whats left after retrenchment in the U.S., Japan and to some extent China (where it has taken a partner) is a 70% slump in profits in Europe and falling same-store sales across its entire portfolio. Tesco has defended its dismal European profits by pointing out that it has invested in markets like Poland in advance of expected growth. Citi analyst Alistair Johnston accepts this argument. The repositioning in Poland is a genuine factor. Jeronimo Martins and Eurocash have both highlighted the tougher competitive conditions lately and Tescos promotional activism is mentioned as a specific causal factor, he wrote. We certainly believe this activism is appropriate after years of relative like-for-like underperformance. But he adds that in that case We wonder whether similar activism might be warranted in other regions also, which perhaps underscores the extent of potential earnings downside for the group as a whole. Unfortunately, says Rahul Sharma, retail analyst at Neev Capital, the big retailers are all exposed to the wrong format. [ Carrefour , Tesco and Wal-Mart Stores Inc] are all trying to change the shape of their business [into convenience formats] but when its 90% hypermarkets it takes a long time. He is equally concerned about price and price perception because the discounters are taking share in all markets, from the U.K. to Poland to Turkey.
Europe's Troubles Extend to its Supermarket Shelves
By Mark Thompson @MarkThompsonCNN October 3, 2013: 8:27 AM ET Greek Prime Minister Antonis Samaras has stuck to the task of painful economic reforms. LONDON (CNNMoney) Investors are scouring Europe for ways to make money from its tentative recovery, and one U.S. firm thinks it has found the answer — buy Greek government bonds. Japonica Partners said it believed Greek debt was "massively undervalued" and should be rated several notches above the junk status assigned by the big credit rating agencies. Greece has been shut out of international bond markets since 2010, when its government borrowing spiraled out of control. It has been rescued twice by the European Union and International Monetary Fund and was forced to restructure its debt in March 2012, imposing losses of more than 100 billion euros on private bondholders. Related: Europe's recovery is weak, warns ECB But hedge funds — such as Dan Loeb's Third Point — and other niche investors who bought into Greek debt since the restructuring have made a killing. Yields on Greek 10-year debt in the secondary market have plunged from around 44% in March 2012 to 9%. Japonica's statement was greeted with derision by some investors Thursday, but the firm that made its name restructuring bankrupt Allegheny International in the early 1990s believes it has spotted an opportunity others may have missed. It claims to have become one of the larger, if not the largest, holder of Greek government bonds, and has hired a former senior executive from Norway's oil fund — one of the world's biggest investors — to help manage the portfolio. Related: Investors embrace European stocks "Greece is one of history's most extraordinary sovereign rejuvenations hidden in plain sight by pervasive systemic misperceptions," Japonica said, adding it expected yields should break below 5% in 2014. It's a bold prediction but Japonica may have a point. Greece's headline economic data and social crisis remain as depressing as ever, and it may yet need another 10 billion euros in support. Still, the government is on track to deliver a primary budget surplus — stripping out the cost of servicing its massive debt this year — and hopes to return to the bond market in the first half of 2014.